last updated: Mar.31, 2014
---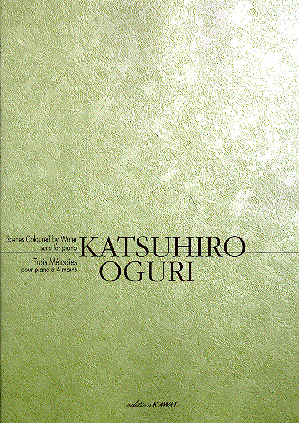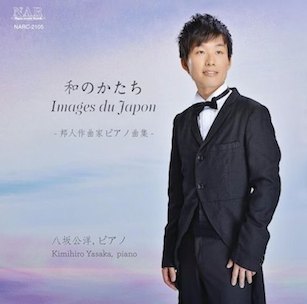 Information
Suite for Piano "Scenes Coloured by Water"
& Trois Melodies pour piano a 4 Mains
(edition KAWAI Online Store, CD Amazon)

Suite for Piano "Scenes Coloured by Water
One day, I was bathing the warm sunshine in my garden, and looking at the flowers which began blooming in different colours. Cherry trees were bearing little pink buds. I was inspired by this mellow, warm atmosphere of spring and composed this piece named "Scenes Coloured by Water".Once I wrote a music about the spring, it was natural that I was motivated to write those for other seasons. In the following three months, I composed six pieces with which same procedure of naming was repeated; I completed the piece, played it for my wife, and she gave the title for it. She was eventually the one who made the title of the entire suite, as a matter of fact. As the composition was to be published, Kayoko Sunaga, my wife, wrote short but pretty poems for each piece of the suite.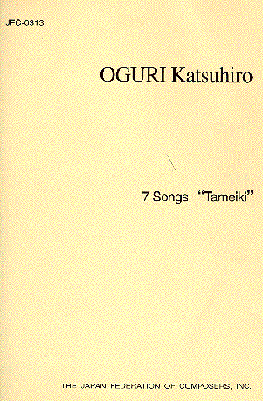 Trois Melodies pour piano a 4 Mains
1 Barcarolle: by imagining the gondola in Venice, Italy,
2 Chant (song): expressing the mood of singing a lovely song, and
3 Mouvement (movement): keeping the Latin rhythm steady throughout the piece.
---
"TAMEIKI" for voice and piano was performed by Yukari Nonoshita and Katsuhiro Oguri in TOKYO /February 5. Score of this work was released. The right photo is a score of this work. Email information to: Katsuhiro Oguri (oguri1962@me.com)
---
Welcome to FANTASTIC RECITAL ON MIDI
My name is Katsuhiro Oguri, composer and pianist in Japan. This page contains You Tube Data , standard MIDI files and mp3 files of classical piano pieces played by myself and You Tube Data , MIDI files and mp3 files of my transcriptions and my own works.
New You Tube Data , MIDI files and mp3 files are added to this archive at every month.

---
License
These files are provided by Katsuhiro Oguri free of charge. YOU MAY NOT DISTRIBUTE OR SELL THESE DATA, NOR MAY YOU TAKE A FEE OR COMMISSION FOR PROVIDING THESE DATA TO ANOTHER PERSON, NOR MAY YOU INCLUDE THESE DATA WITH OTEHR DATA THAT IS SOLD FOR A FEE WITHOUT PRIOR WRITTEN PERMISSION FROM THE AUTHER. Permission is herewith granted for making these data available on electronic data services and FTP-Archive Servers providing that the documentation and files are included without change or abridgment.

---
Email comments, questions or information to:
Katsuhiro Oguri (oguri1962@me.com)
---
This Page was created by Katsuhiro Oguri
---